Beginning of main content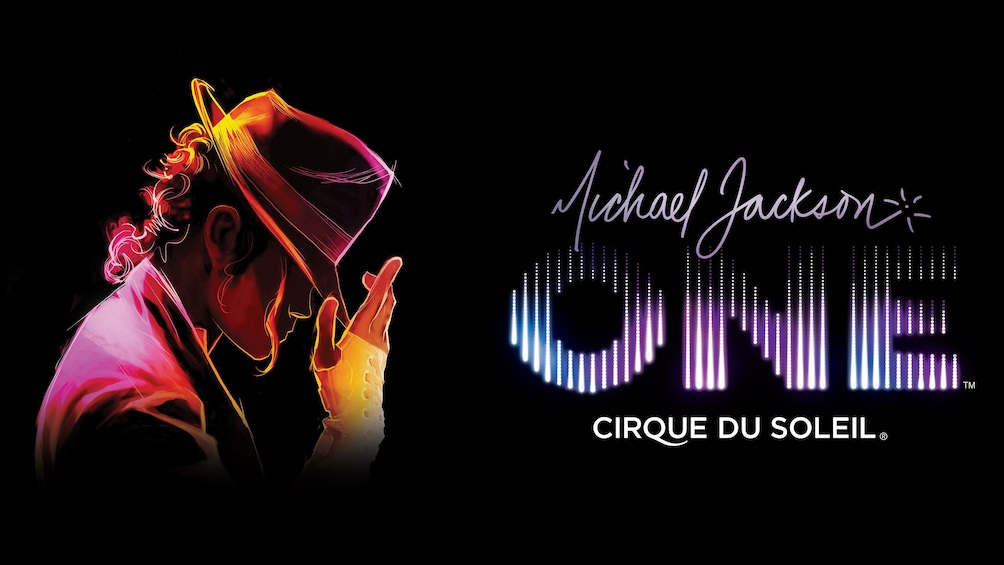 Michael Jackson ONE™ by Cirque du Soleil® at Mandalay Bay Resort and Casino
By MGM Resorts International
Price is € 89per traveller
Theatrical evocation of Michael Jackson's creative genius

Chance to see fantastical acrobatics, choreography & music

Spectacular tribute to Michael Jackson's work, life & spirit

Cast of 63 world-class performers & dancers on stage

State-of-the-art visual & audio experience in Las Vegas
PROMO Category D Tier 0 seating
Please select this option for the best available seats in Category D Tier 0 seating
Price details
Price is € 120,78 per ticket, price for 1 Traveller is € 120,78
---
This activity is non-refundable
If you choose to change or cancel this booking you will not be refunded any of the payment
PROMO Category D Tier 5 seating
Please select this option for the best available seats in Category D Tier 5 seating
Price details
Price is € 120,78 per ticket, price for 1 Traveller is € 120,78
---
This activity is non-refundable
If you choose to change or cancel this booking you will not be refunded any of the payment
Category D Tier 0 seating
Please select this option for the best available seats in Category D Tier 0 seating
Price details
Price is € 130,29 per ticket, price for 1 Traveller is € 130,29
---
This activity is non-refundable
If you choose to change or cancel this booking you will not be refunded any of the payment
Category D Tier 5 seating
Please select this option for the best available seats in Category D
Price details
Price is € 130,29 per ticket, price for 1 Traveller is € 130,29
---
This activity is non-refundable
If you choose to change or cancel this booking you will not be refunded any of the payment
PROMO Category C Tier 5 seating
Please select this option for the best available seats in Category C Tier 5 seating
Price details
Price is € 147,58 per ticket, price for 1 Traveller is € 147,58
---
This activity is non-refundable
If you choose to change or cancel this booking you will not be refunded any of the payment
PROMO Category C Tier 6 seating
Please select this option for the best available seats in Category C Tier 6 seating
Price details
Price is € 155,38 per ticket, price for 1 Traveller is € 155,38
---
This activity is non-refundable
If you choose to change or cancel this booking you will not be refunded any of the payment
Category C Tier 5 seating
Please select this option for the best available seats in Category C
Price details
Price is € 160,07 per ticket, price for 1 Traveller is € 160,07
---
This activity is non-refundable
If you choose to change or cancel this booking you will not be refunded any of the payment
PROMO Category B Tier 6 seating
Please select this option for the best available seats in Category B Tier 6 seating
Price details
Price is € 178,72 per ticket, price for 1 Traveller is € 178,72
---
This activity is non-refundable
If you choose to change or cancel this booking you will not be refunded any of the payment
Category B Tier 6 seating
Please select this option for the best available seats in Category B
Price details
Price is € 194,67 per ticket, price for 1 Traveller is € 194,67
---
This activity is non-refundable
If you choose to change or cancel this booking you will not be refunded any of the payment
Category A Tier 0 seating
Please select this option for the best available seats in Category A Tier 0 seating
Price details
Price is € 208,12 per ticket, price for 1 Traveller is € 208,12
---
This activity is non-refundable
If you choose to change or cancel this booking you will not be refunded any of the payment
Category A Tier 5 seating
Please select this option for the best available seats in Category A
Price details
Price is € 208,12 per ticket, price for 1 Traveller is € 208,12
---
This activity is non-refundable
If you choose to change or cancel this booking you will not be refunded any of the payment
PROMO Category D Tier 8 seating
Please select this option for the best available seats in Category D Tier 8 seating
Price details
Price is € 139,81 per ticket, price for 1 Traveller is € 139,81
---
This activity is non-refundable
If you choose to change or cancel this booking you will not be refunded any of the payment
Category D Tier 8 seating
Please select this option for the best available seats in Category D
Price details
Price is € 151,44 per ticket, price for 1 Traveller is € 151,44
---
This activity is non-refundable
If you choose to change or cancel this booking you will not be refunded any of the payment
PROMO Category C Tier 8 seating
Please select this option for the best available seats in Category C Tier 8 seating
Price details
Price is € 172,67 per ticket, price for 1 Traveller is € 172,67
---
This activity is non-refundable
If you choose to change or cancel this booking you will not be refunded any of the payment
Category C Tier 8 seating
Please select this option for the best available seats in Category C
Price details
Price is € 187,94 per ticket, price for 1 Traveller is € 187,94
---
This activity is non-refundable
If you choose to change or cancel this booking you will not be refunded any of the payment
Category A Tier 4 seating
Please select this option for the best available seats in Category A
Price details
Price is € 196,60 per ticket, price for 1 Traveller is € 196,60
---
This activity is non-refundable
If you choose to change or cancel this booking you will not be refunded any of the payment
PROMO Category B Tier 8 seating
Please select this option for the best available seats in Category B Tier 8 seating
Price details
Price is € 199,47 per ticket, price for 1 Traveller is € 199,47
---
This activity is non-refundable
If you choose to change or cancel this booking you will not be refunded any of the payment
Category B Tier 8 seating
Please select this option for the best available seats in Category B
Price details
Price is € 217,73 per ticket, price for 1 Traveller is € 217,73
---
This activity is non-refundable
If you choose to change or cancel this booking you will not be refunded any of the payment
Return to your original page
What's included, what's not
Admission to Michael Jackson ONE™ by Cirque du Soleil
This performance is not recommended for children 11 and younger; children 4 and younger are not allowed.

Children 17 and younger must be accompanied by a paying adult.

If you react to strobe lights and theatrical fog, you should carefully consider whether to participate.

All persons entering the theatre, regardless of age, must have a ticket.

Check-in is 60 minutes prior to the booked show start time.

Guest can pick up tickets no sooner than two (2) hours after placing a reservation
An immersive journey hailed by Rolling Stone as "A virtual parade of 'wow' moments," Michael Jackson ONE by Cirque du Soleil is an electrifying fusion of acrobatics, dance and visuals immersing the audience into the world of Michael's music. Driven by his biggest hits heard like never before in a riveting, state-of-the-art surround-sound environment Michael Jackson ONE by Cirque du Soleil performs exclusively at Mandalay Bay Resort and Casino in Las Vegas.
This state-of-the-art performance weaves together incredible choreography, cutting-edge technology, and creative sets to give new life to classic pop hits, using them as the amped-up soundtrack to a mysterious plot. From the edge of your seat, watch as 4 misfits fight the evil Mephisto—an ominous and shadowy villain who looms over the action on stage.
Sing along to your favourite MJ songs while the world-famous performers of Cirque du Soleil® take you through the concert of a lifetime. As "Billie Jean" pumps out of the speakers built into your seat, dancers take to the stage in mesmerising, illuminated ensembles. When the catchy rhythms of "Beat It" fill the theatre, contortionists twirl high above you in a bungee swing. And when "Thriller" plays, zombies roam the aisles during a synchronised trampoline dance. The extravaganza draws to a close with show-stopping numbers and wild visual effects.
4.6 average out of 5 rating of 2499 reviews
Plan your trip in a snap on the app
From home or hammock, organise your entire escape and explore app offers