Beginning of main content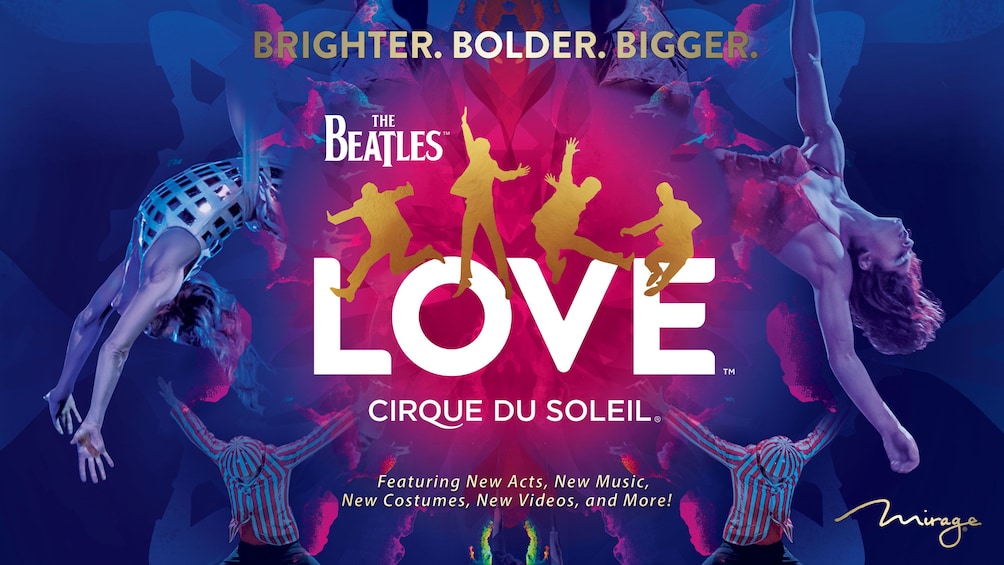 The Beatles® LOVE™ by Cirque du Soleil® at The Mirage Hotel and Casino
By MGM Resorts International
Price is € 77per traveller
Cirque du Soleil's nostalgic celebration of a legendary band

3-time Grammy winner & recordings from Sir George Martin

Stunning new acts, costumes, choreography & technology

Irresistible soundtrack featuring just-added "Twist & Shout"

360-degree viewing for a captivating storey from every angle
PROMO Category D Tier 2 seating
Please select this option for the best available seating in Category D Tier 2 seating
Price is € 98,86 per ticket, price for 1 Traveller is € 98,86
---
This activity is non-refundable
If you choose to change or cancel this booking you will not be refunded any of the payment
PROMO Category C Tier 1 seating
Please select this option for the best available seating in Category C Tier 1 seating
Price is € 109,66 per ticket, price for 1 Traveller is € 109,66
---
This activity is non-refundable
If you choose to change or cancel this booking you will not be refunded any of the payment
Category B Tier 1 seating
Please select this option for the best available seating in Category B Tier 1 seating
Price is € 139,64 per ticket, price for 1 Traveller is € 139,64
---
This activity is non-refundable
If you choose to change or cancel this booking you will not be refunded any of the payment
Category A Tier 4 seating
Please select this option for the best available seating in Category A Tier 4 seating
Price is € 187,57 per ticket, price for 1 Traveller is € 187,57
---
This activity is non-refundable
If you choose to change or cancel this booking you will not be refunded any of the payment
Category H Tier 1 seating
Please select this option for the best available seating in Category H Tier 1 seating
Price is € 76,06 per ticket, price for 1 Traveller is € 76,06
---
This activity is non-refundable
If you choose to change or cancel this booking you will not be refunded any of the payment
PROMO Category D Tier 1 seating
Please select this option for the best available seating in Category D Tier 1 seating
Price is € 94,69 per ticket, price for 1 Traveller is € 94,69
---
This activity is non-refundable
If you choose to change or cancel this booking you will not be refunded any of the payment
Category D Tier 1 seating
Please select this option for the best available seating in Category D Tier 1 seating
Price is € 105,41 per ticket, price for 1 Traveller is € 105,41
---
This activity is non-refundable
If you choose to change or cancel this booking you will not be refunded any of the payment
Category C Tier 1 seating
Please select this option for the best available seating in Category C Tier 1 seating
Price is € 123,01 per ticket, price for 1 Traveller is € 123,01
---
This activity is non-refundable
If you choose to change or cancel this booking you will not be refunded any of the payment
PROMO Category B Tier 1 seating
Please select this option for the best available seating in Category B Tier 1 seating
Price is € 123,79 per ticket, price for 1 Traveller is € 123,79
---
This activity is non-refundable
If you choose to change or cancel this booking you will not be refunded any of the payment
Category A Tier 5 seating
Please select this option for the best available seating in Category A Tier 5 seating
Price is € 198,31 per ticket, price for 1 Traveller is € 198,31
---
This activity is non-refundable
If you choose to change or cancel this booking you will not be refunded any of the payment
Return to your original page
What's included, what's not
Admission to The Beatles® LOVE™ by Cirque du Soleil®
Best available seating in your chosen section
Children 4 and younger are not allowed.

This venue is wheelchair accessible.
Discover—or rediscover—your favourite Beatles songs as LOVE envelops you in music that has captivated generations. Presented in the round, this nostalgic and celebratory Cirque du Soleil® show has been reimagined with stunning new acts, choreography, costumes, and incredible production technology.
Head to the Mirage and settle into the intimate theatre, where 360-degree seating draws you into an engrossing, multi-sensory storey from every angle. The soundtrack sings with medleys of Beatles master recordings mixed by Sir George Martin—the band's former producer—and his son, Giles. Tunes loop into and play off one another to create a sound that could only be topped by a live performance from the band itself, and the thrilling energy of the acrobats, aerialists, and dancers is a perfect match.
LOVE's scenes come together as sets, characters, and props float to the stage with an iconic soundtrack that includes favourites like "Lady Madonna," "Octopus's Garden," "Yesterday," and "While My Guitar Gently Weeps." Colourful new imagery featuring band silhouettes, film footage, and portraits of the Fab Four fill the room. Big, bright, and bold, this 3-time Grammy Award-winning spectacle is an acrobatic, rock 'n' roll ode to the legendary band from Liverpool.
4.7 average out of 5 rating of 1570 reviews
Plan your trip in a snap on the app
From home or hammock, organise your entire escape and explore app offers